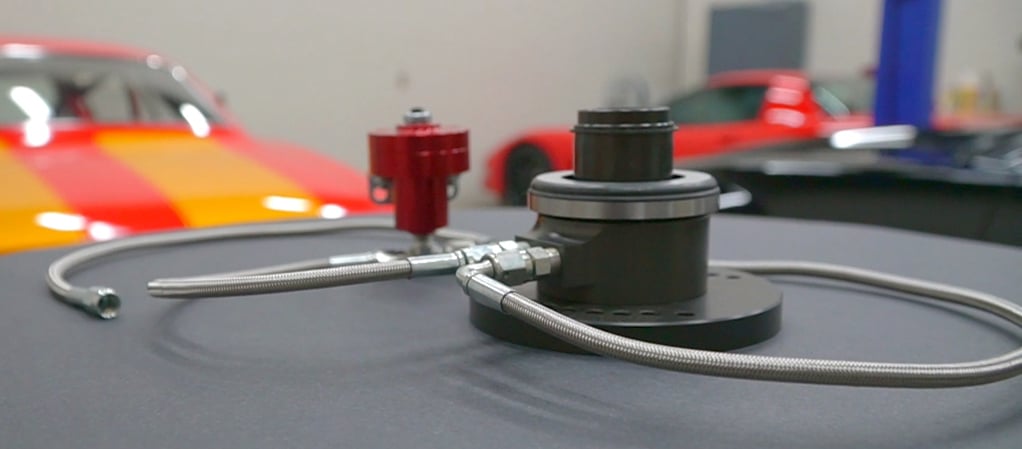 Adding hydraulics to early model cars has become very popular, with many people doing swaps of late-model engines and/or five and six-speed transmissions.  There are several positives to making this switch and a few falsehoods to remember.
TRUE– Switching to a hydraulic bearing will free up space in my engine compartment.
Making a change to hydraulics eliminates all of the factory mechanical linkages. It frees up space for later model engine swaps, big block or tall deck motors, and the use of simpler header systems without worrying about clearing the factory linkage.  Additionally, most late model blocks do not have the mechanical Z-bar pivot facility to attach to the engine block.
FALSE– Hydraulic bearings are not reliable for street use.
At one time, this may have been the case, but with refinements in RAM hydraulic bearings' design to incorporate larger o-ring seals, the overall life of these systems has increased significantly.  Proper routing of the feed line and insulation from heat are also key factors.
TRUE– Installing hydraulics is easier than you think.
Many companies now offer exact fit master cylinder systems that will mount to your firewall correctly and attach properly to the pedal. They'll provide the correct push angle and ratio to keep pedal effort down.  Watch for RAM to introduce these master systems in the coming months!
FALSE– Setting up a hydraulic bearing is a pain in the butt.
RAM has made it simple to properly set up a hydraulic release bearing by providing in-depth videos and instructions that walk you through the process of installing these units.  Do you have to take measurements?  Yes!  Do you need to take your time and do it right?  Yes, especially if you are like me and prefer to only do things one time.
TRUE– Hydraulic bearings can be used with earlier lever-style clutches.
By simply changing out the snap-on bearing face on RAM hydraulic bearings, you can install a wide face bearing that will accommodate Long Style and Borg and Beck clutches.  It is required to use 45-degree fittings coming out of the bearing to route the lines back in the bell housing away from the clutch cover and avoid contact.
FALSE– Pedal effort will be lower with a hydraulic bearing.
Pedal effort encompasses several factors.  The size of the master cylinder has the greatest effect on pedal feel.  Larger masters will have heavier effort.  Getting the sizing correct will minimize effort and get the proper bearing travel to disengage the clutch correctly without over travel.  The other major factor is the pickup point of the master cylinder rod on the clutch pedal.  Maintaining the proper pedal ratio will minimize the pedal effort.
Send us an email at [email protected] with any questions about our hydraulic bearings or fill out our tech form!