RAM PRO SERIES RELEASE BEARINGS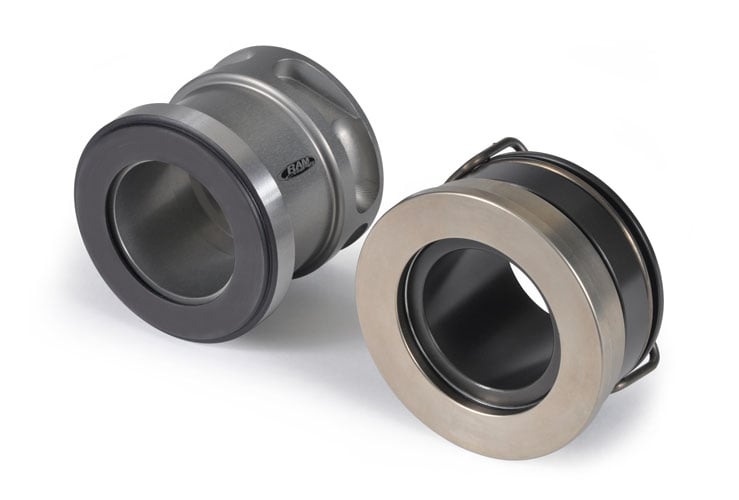 RAM introduces our new release bearings for drag racing clutches in 7, 8, 10, and 11 inch diameters. The release bearing is constructed utilizing a sealed bearing with a tool steel contact face.  The sealed design eliminates bearing run out and will not sling grease out on to the clutch assembly as traditional bearings commonly do.  Bearings are available in fork style configuration; cross shaft models will be available soon!  Fork type bearings have anti-rotational collars.
Small diameter 6.25 release bearings have an aluminum anti-rotational collar and are designed not to deposit grease on to the clutch assembly and weight in at only .75 lbs.
New RAM Clutches in 7,8,10, or 11 inch usually require bearing 40-070.  New RAM 6.25 Clutches require bearing 40-010.  If you are unsure what length to purchase, measure your existing bearing length at Dimension "A" and refer to the chart below:
6.25-7 inch clutch bearings

APPLICATION

DESCRIPTION

PART NUMBER

APPLICATION

Bearing 2.000 OAL / Fork

DESCRIPTION

RAM 6.25 - 7inch clutches

PART NUMBER

APPLICATION

Bearing 2.250" OAL / Fork

DESCRIPTION

Most 6.25 - 7 inch clutches

PART NUMBER

APPLICATION

Bearing 2.750" OAL / Fork

DESCRIPTION

RAM 6.25 - 7 inch clutches

PART NUMBER
8,10,11 inch clutch bearings

APPLICATION

DESCRIPTION

PART NUMBER

APPLICATION

Bearing 2.250" OAL / Fork

DESCRIPTION

8,10,11 inch clutches

PART NUMBER

APPLICATION

Bearing 2.500" OAL / Fork

DESCRIPTION

8,10,11 inch clutches

PART NUMBER

APPLICATION

Bearing 1.250" OAL / Cross shaft

DESCRIPTION

8,10,11 inch clutches

PART NUMBER

APPLICATION

Bearing 1.500" OAL / Cross shaft

DESCRIPTION

8,10,11 inch clutches

PART NUMBER

APPLICATION

Bearing 1.625" OAL / Cross shaft

DESCRIPTION

8,10,11 inch clutches

PART NUMBER

APPLICATION

Bearing 1.750" OAL / Cross shaft

DESCRIPTION

8,10,11 inch clutches

PART NUMBER

APPLICATION

Bearing 1.875" OAL / Cross shaft

DESCRIPTION

8,10,11 inch clutches

PART NUMBER

APPLICATION

Bearing 2.000" OAL / Cross shaft

DESCRIPTION

8,10,11 inch clutches

PART NUMBER

APPLICATION

Bearing 2.250" OAL / Cross shaft

DESCRIPTION

8,10,11 inch clutches

PART NUMBER

APPLICATION

Bearing 2.375" OAL / Cross shaft

DESCRIPTION

8,10,11 inch clutches

PART NUMBER

APPLICATION

Billet fork, 2" length, 1.750" ID

DESCRIPTION

8,10,11 inch clutches

PART NUMBER

APPLICATION

Billet fork, 2" length, 1.375" ID

DESCRIPTION

8,10,11 inch clutches

PART NUMBER

APPLICATION

Billet fork, 2.25" length, 1.375" ID

DESCRIPTION

8,10,11 inch clutches

PART NUMBER

APPLICATION

Billet fork, 2.5" length, 1.375" ID

DESCRIPTION

8,10,11 inch clutches

PART NUMBER

APPLICATION

Standard fork, 1.55" length, 1.435" ID

DESCRIPTION

8,10,11 inch clutches

PART NUMBER

APPLICATION

Standard fork, 1.55" length, 1.375" ID

DESCRIPTION

8,10,11 inch clutches

PART NUMBER

APPLICATION

Standard fork, 1.75" length, 1.435" ID

DESCRIPTION

8,10,11 inch clutches

PART NUMBER

APPLICATION

Standard fork, 1.75" length, 1.375" ID

DESCRIPTION

8,10,11 inch clutches

PART NUMBER
Replacement bearings

APPLICATION

DESCRIPTION

PART NUMBER

APPLICATION

Bearing adapter

DESCRIPTION

8, 10, 11 inch clutches (fork)

PART NUMBER

APPLICATION

Replacement bearing

DESCRIPTION

8,10,11 inch clutches (fork)

PART NUMBER

APPLICATION

Replacement bearing

DESCRIPTION

6.25 inch clutches (fork)

PART NUMBER