How should you select a dual disc for a Dodge Challenger clutch upgrade?  Let's just say size does matter. And that's why you should look at some features of the RAM Concept 10.5.
The Concept 10.5 includes all of the features of our popular Force 10.5 dual disc and improves many aspects of the 9.5-inch factory and other brands in the aftermarket.  
The Concept 10.5 (50-2370N) utilizes a larger sized 10.5-inch disc versus 9.5-inch discs; the 10.5-inch diameter friction mat
erial has more surface area and can achieve more holding capability and better dissipate heat without wearing or glazing the friction material. 
Size matters!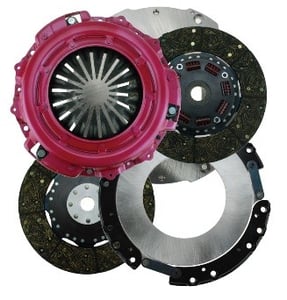 The higher clamp load of the larger-sized 10.5-inch pressure plate is 2,400 pounds versus 1,800 to 2,000 pounds on smaller 9.5-inch units. In simpler terms, more holding power and longer life.
Again, size matters!
Another key feature is the sprung hub top disc. Many dual-disc systems utilize two solid center discs. The sprung center top disc allows the clutch to absorb more shock as the clutch initially engages, relieving some of the stress and shock to the transmission input shaft and the rest of the driveline. 
The clutch system can be bolted to the factory flywheel or used with our part number 2586 aluminum flywheel.  The setup height of the clutch system allows utilization of the factory slave cylinder, or a RAM aftermarket hydraulic bearing/slave cylinder 78183 may be used.
As with all RAM street dual disc systems, the Concept 10.5 features a strapped floater plate design that is quiet on disengagement, rather than driving off stands that create a 'rattle' when the clutch is disengaged.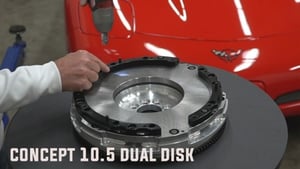 When doing homework on a Dodge Challenger clutch upgrade or any performance clutch kit upgrade, remember that size matters.  
Don't just go with what your buddy suggests or what people on social media say you should use. 
Be sure to look at all the features for yourself to make an informed buying decision.  And as always, we are here to help or answer any additional questions you may have.
Check out this short video to see how the concept 10.5 mounts on the RAM 2586 billet aluminum flywheel.